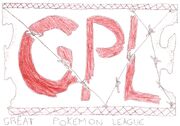 Great Pokemon League (Kanto, Johto, Hoenn, Nahrta and Sinnoh) is the most important league of the world. Most of the employees are from the Pokemon anime
Battle style
Edit
With a very numerous types of matches, much are hardcore styled or based in Pokemon or trainer wrestling. Here are some examples of match:
Falls count match
Edit
A type of battle that your Pokemon have to immobilize or force the foe to give up. This is a wrestling based match.
Morningstar match
Edit
This match starts with 2 Pokemon fighting,when 1 faints, the Pokemon are retrieved and the trainers enter,that start brawling themselves until a immobilization or a give up is made. Who wins the 2 rounds is the winner, but if it has a draw,another 2 Pokemon are sent out. The only weapon allowed are morningstars.
Employees
Edit
This is GPL roster
Champions
Edit
Brand
Championship
Champion(s)
Defeated
Date Won
Location
Hard Core
GPL champion
Silver
Long
July 5,2009
Verdanturf,Hoenn
TV champion
Crew
Blue
December 17,2009
Fortree,Hoenn
GPL Women's champion
Jasmine
Flannery
January 27,2010
New bark,Johto
World tag team champions
Destruction Xtreme
Layla and brendan
July 20,2009
San diego
Smash
Contest pass
Candice
Cora
December,17,2009
Fortree,Hoenn
GPL tag team champions
Gold and Kris
Misty and tracey
November 18,2009
Hearthome,Sinnoh
Intercontinental champion
Morty
Wally
November 18,2009
Hearthome,Sinnoh
World heavyweight champion
Kisumon
Volkner
January 27,2010
New bark,Johto
Accomplishments
Edit
Belinda
Brock
Misty
LT. Surge
Ash
Sabrina
Blaine
Blue
May
Lucy
Tracey sketchit
Anderson
Jenny
Falkner
Bugsy
Whitney
Morty
Chuck
Neto
Kid rock
Isaac
Drew
Brawly
Wattson
Flannery
Norman
Wallace
Ritchie
Jessie
James
Arnold marguerrif
ronald margueriff
Dawn
Maylene
Crasher wake
Kisumon
Moore
Crew
Byron
Candice
Volkner
ritchie
Steven
Layla
Brendan
Tag teams and stables
Edit
| Team name | Members |
| --- | --- |
| Destruction Xtreme | Long ,Stevie and May |
| The Margueriffs | Ronald and Arnold margueriff |
| NONE | Jessie and James |
| NONE | Flannery and Blaine |
| The Unity | Misty and Tracey |
| NONE | Gold and Kris |
| Team GPL | Neto,Ash and Blue |
| Name | Position |
| --- | --- |
| Jimmy chad | Commentator |
| Heather Lings | Commentator |
| Fuji | Chairman |
| John "janitor" Steels | interviewer |
In 1986,a wrestling fan created his imaginary friend to watch the fights with him,and named him fuji.The boy grew and at one point of time,he knew that he and his friend had to continue their ways alone. After 2 years since he was left to move on his way,"fuji" discovered by the announes in Honoa that a new land were created,the Pokémon world. Aboard a ship,he travelled full of dreams in his heart and ideas in the mind.After fuji arrived,he started thinking about 1 way to make pokemon fights more hardcore and as like the matches he used to watch with his tamer. So,in 2000,now known as dr. or Mr. Fuji,GPL started as a show. Fuji still asking to some tamers what happens in the wrestling brands in real world.So,the matches and rules are always renovated.
Show info
Edit
name = Great pokemon league
episode count = 512 (last counted at February 14,2010)
original run =january 13,2000-Present}}
brand 1 = Hard core
airtime = Fridays 20h to 21h30| channel = Pokemon live!
theme = "No one like you by Scorpions"
Original run=August 20,2009
brand 2 = Smash
airtime = Mondays 20h to 21h30| channel = Pokemon live!
theme = "...To Be Loved" by Papa Roach
Original run=August 23,2009
Pay-Per-views
Edit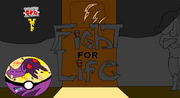 Each year,GPL have 1 serie of pay per view,and 2010 is the year of Fight for life Each no way out event is named after months(Fight for life january). And gpl has 3 special events yearly,1 is the WFF World tournament, Pokemania and Aniversary brawl
Defunct championships
Edit
GPL heavyweight champion(now GPL chanmpionship)
Light weight championship(for kindergarten type pokemons)
GPL Extreme championship(for extreme matches)
Television tag team championship